Services


---
Best viewed with
Netscape Navigator
Why should you go with

RE/MAX stands for Real Estate maximums. All RE/MAX Sale associates are dedicated to providing the maximum real estate satisfaction for our clients.
Founded in March, 1973, we have grown both in the United States and Canada to a network of more than 35,000 sales agents in over 1970 offices. Today RE/MAX is one of the most widely recognized corporate names in the world. Its trademarked hot air balloon symbol and red-white-and-blue-striped yard signs are familiar to tens of millions throughout North America and beyond. All that was possible because of quality individuals providing solid professional service to their customers.
RE/MAX can meet your real estate requirements, whether they are residential, commercial, investment, business opportunities, real estate development or relocation services.
The bar graph below proves that in Chicago land RE/MAX agent is #1 choice if you are thinking about selling your property.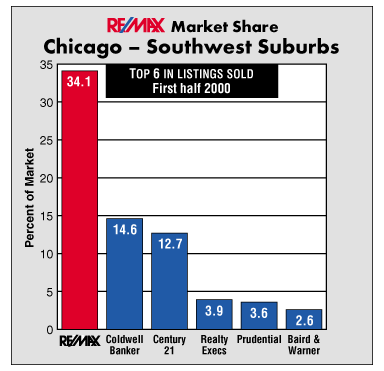 This bar graph represents the residential listings of all office locations and independent offices of each multi-office or franchise organization identified, which listings were sold by such organization itself, or with the aid of a cooperating broker, according to sales reported by the Multiple Listing Service of Northern Illinois (MLSNI) for the time indicated. MLSNI neither guarantees or is in any way responsible for its accuracy. Data maintained by MLSNI may not reflect all real estate activity in the market.
For more information about RE/MAX visit RE/MAX Online.